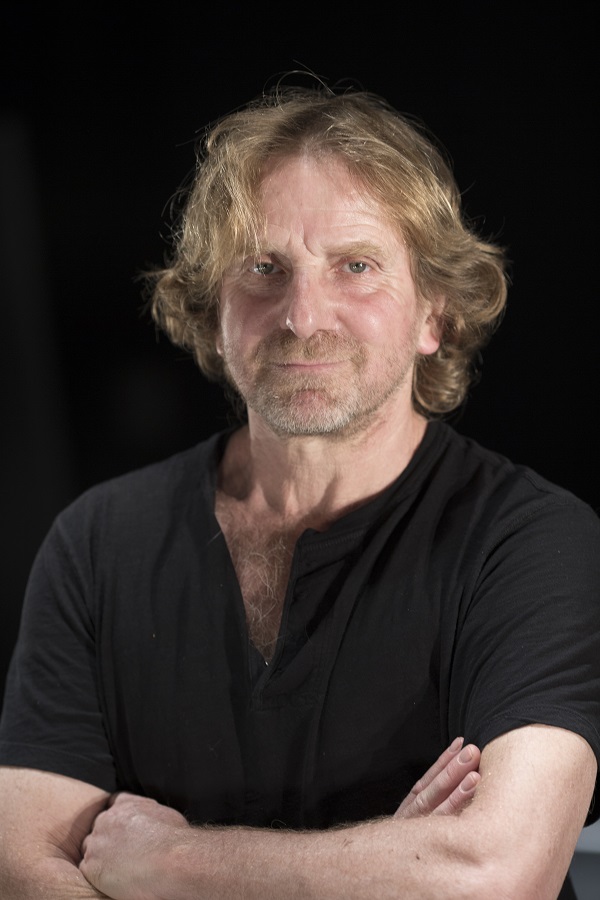 Born in 1957 to a family of Holocaust survivors, Rami Be'er, is the Artistic Director of Kibbutz Contemporary Dance Company. His parents immigrated to Israel in 1948 with the group that founded Kibbutz Ga'aton. Be'er grew up in a home filled with culture, literature, architecture, sculpture, painting, poetry and music. His father, an architect by profession and an amateur violinist, introduced music studies to Be'er and his three sisters from a very young age, and even formed a chamber orchestra with his children, in which the young Be'er played the cello. His mother's family owned Dante, a large publishing business in Hungary before World War II.
Be'er was educated in the collective system of Kibbutz Ga'aton. In his youth he studied dance at the Ga'aton dance studio, played the cello, and was a youth leader in Hashomer Hatsa'ir. In 1977 before his recruitment he was accepted to an army troupe as a dancer, but preferred to volunteer for the HQ Commando Unit and served as a combat soldier. At the end of his mandatory service, he continued to serve as a reserves combat soldier in his Unit for many years, and participated in military operations including the First Lebanon War. On his discharge in 1980, Be'er joined the Kibbutz Contemporary Dance Company as a dancer, and shortly thereafter, as choreographer.
In 1987 he was appointed the House Choreographer and Assistant Artistic Director of the Kibbutz Contemporary Dance Company.
In 1994 Be'er initiated the formation of the Second Company of Kibbutz Contemporary Dance Company (KCDC 2) with the intention to establish a company appearing before children, teens, and families, and to nurture the future dancers of KCDC's main company. His works for children, that have become classics over the years, include the The Carnival of the Animals to the music of Camille Saint-Saëns (a work in which he collaborated with the late Ehud Manor z"l, who wrote the special text), Peter and the Wolf to the music of Prokofiev, the Young Person's Guide to the Orchestra, and The Sorcerer's Apprentice. Tens of thousands of children and young people have been exposed to this fantastic dance experience over recent decades.
Upon the retirement of Yehudit Arnon in 1996 Be'er was appointed the Company's Artistic Director. Rami first studied dance with Yehudit as a child, who was his mentor for many years as a pupil, young dancer and creative artist. They shared a special and inspiring bond. Over the years Rami continued to develop Yehudit Arnon's vision and made Kibbutz Contemporary Dance Company and the Int'l Dance Village leading examples of excellence in their field, worldwide.
The establishment of the International Dance Village in Ga'aton, under the artistic direction of Rami Be'er, was officially announced in 2006. Since then it has become a magnet for dancers and creative artists from all over the world. At the forefront of its activity is Kibbutz Contemporary Dance Company, which offers a rich variety of educational and training courses for professional dancers, and activities for the general public, including special populations, youth at risk, the Arab sector, etc.
Over the years, Be'er has developed a unique multi-disciplinary language, which combines movement with stage design, lighting and costumes. As a holistic creative artist, Be'er deals with all aspects of the artistic work – content, form and design. His work invites the viewer to join a journey in which he can discover himself. True, Be'er's work presents an imaginary world, but the audience is free to interpret it through their personal experience.
Altogether, Rami has created over 50 works of dance, mostly full length, providing a full evening of dance, for adults and children. His works have received international acclaim and recognition as he's won numerous awards and medals of appreciation both in Israel and overseas. Under his artistic direction, KCDC has received high praise from critics and audiences alike, and serves as an international cultural ambassador for Israel.
Amongs the companies for which Be'er has created original works are Gratz Opera Ballet (Austria), Batsheva Dance Company (Israel), Hungarian National Ballet, New Danish Dance Theatre (Denmark), Staatsballett Berlin (Germany), Croatian National Ballet Theatre, Reykjavik National Ballet (Iceland), Tanzcompagnie Oldenburg (Germany), Ballett Basel (Switzerland), Poznan Opera House Ballet (Poland), National Theatre Ballet Brno (Czech Republic) and more.
Many academic papers in Israel and worldwide, MA papers and PhD theses have been written about Be'er's artistic creations.
Achievements & Awards

2022  Lifetime Achievement Award winner on behalf of the Ministry of Culture and Sports.
2022  Winner of the Rosenblum Award for the Performing Arts, a Lifetime Achievement Award on behalf of the Municipality of Tel Aviv-Yafo.
2018  His work 'Asylum' is chosen as the Performance of the Year from DanceTalk.
2017  His work 'Mother's Milk' is chosen as the Performance of the Year from DanceTalk.
2016  Receives an honorary degree from The Academy of Music and Dance in Jerusalem.
2015  Invited to collaborate with the Movimentos Festival in Germany on staging the work "Lullaby for Bach/ Blackout".
2011  Invited to stage his work "Casson" in the Brno National Theater, Czech Republic.
2011  Invited to create work for the Poznan Ballet in Poland and the Brno Ballet in the Czech Republic, and his work "Mottola" wins a special prize.
2010  Invited to create work for the Split Ballet in Croatia, and wins the Split Dance Prize for the work.
2010  Creates "Kibbutz 360°", an interactive performance for young people, that has been performed hundreds of times in educational frameworks in Israel and overseas.
2009  Invited to create work for the Basel Ballet in Switzerland – "One two… move" premiered in October 2009.
2005  Invited to create "With Your Eyes" for Nordwest in Germany, a joint project for two dance companies from Oldenburg and Bremen.
2005  Wins the Rosenblum Prize for the Performing Arts – Tel Aviv Municipality.
2004  Wins the dance section of the Mifal HaPayis Landau Prize for the Performing Arts.
2004  Invited by Reykjavik Dance Company, Iceland, to present "Screen Saver" and wins a prize for the work in Iceland.
2003  Invited by Croatia Ballet, the National Theater in Split, to present his work "Casson".
2003  Invited by the Berlin Opera to present his highly acclaimed work "Screensaver".
1996  Appointed Artistic Director of Kibbutz Contemporary Dance Company
1993 Invited to create work for the New Danish Theater, for which he was awarded the Copenhagen Prize.
1993 Invited to create work for the New Danish Theater, for which he was awarded the Copenhagen Prize.
1993  Invited to work on "Naked City" for the Ballet Opera in Graz, Austria.
1990  Invited to work on "Frenzy" for the Hungarian Ballet.
1987  Invited to choreograph "Viewpoint" for the Batsheva Dance Company.
1987  Appointed House Choreographer and Assistant Artistic Director of Kibbutz Contemporary Dance Company.
1986  Awarded a grant for studying a choreography course at the University of Surrey, Guilford, England.
1986  Awarded the Yair Shapira Prize for his contribution to Israeli dance.
1984  Won first prize in the Gertrude Kraus Choreography Competition for his work "Death Comes to the Wooden Horse Michael".
1981  Awarded a special grant from the America Israel Foundation for Jacob's Pillow Festival, USA.
---
…Be'er favors a general modern-dance idiom that makes use of the entire body rather than isolated steps, and the company
is more than well trained in this all-purpose idiom….. Be'er achieves his dramatic purpose through choreographed free association….The committed performance of the cast and the purity of the choreography will win you over…
The New York Times
About

Kibbutz Summer Intensive

Dance with us this summer and join an amazing 2, 4, and 6-week summer dance program and summer dance workshops abroad for high school and university students!

Read more

Contact us

Fill out the form below and we will contact you shortly